US News
The Best Kiddie Pools to Make Your Children Squeal With Delight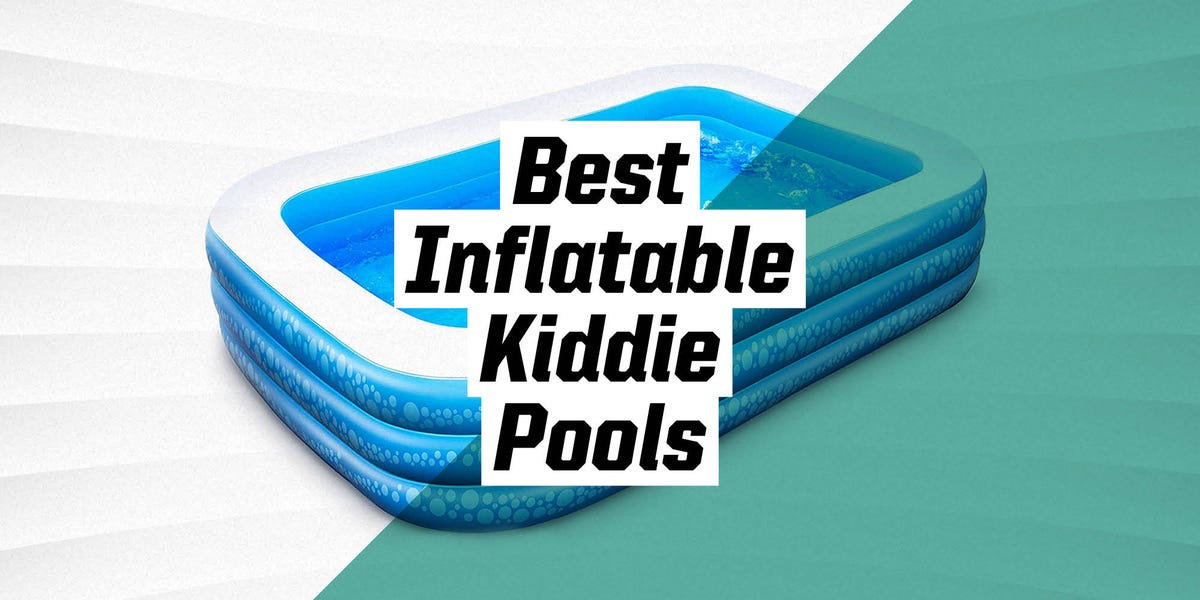 Staff, Courtesy of Amazon
For sweltering summer days, an inflatable kiddie pool is a lifesaver—a way for your kids to stay cool and (hopefully) less cranky. They're a snap to set up and easy to maintain, plus they can offer hours of playtime that don't involve a screen. Whether you're looking for something small and inexpensive or a larger model that can accommodate the entire family and are safe for the youngest members, read on for our top picks for the best kiddie pools on the market, plus advice on a range of important factors to keep in mind when you shop.
What to Consider
Of course you'll want to start with targeting an age-appropriate kiddie pool—and then consider if you and older siblings and adults are planning to take the plunge or sit on the sidelines. Kiddie pools are made of PVC, and some BPA- and lead-free, and those on the higher end will be at least 0.4mm thick. Kiddie pools are generally two feet high or slightly less, even large pools upwards of 10 feet wide. You'll want to look for pools that meet government safety standards (all of those we cover below do) and models with separate air chambers to help keep side walls rigid. Many have three rings, though some have two.
How We Chose

As mentioned above, every kiddie pool we feature meets or exceeds U.S. government safety standards. All also have average customer ratings of four stars or more. We chose pools across a range of styles, sizes, and price points, from round and rectangular options to accommodate two kiddos or entire families to budget-friendly picks and others on the higher end. We made a point to highlight attributes of materials, such as thickness and pools made from BPA- or phthalate-free PVC, in addition to calling out age ratings and specs for dimensions.
Advertisement – Continue Reading Below
1
Our Budget Round Pick
AKASO Kiddie Pool
With three simple summery colors, this option may not have the bold graphic prints of other kiddie pools, but it wins high marks for safety, with all three of the major U.S. and international certifications for children's products. 
As such, you can expect a high-quality product, made of BPA-free, nontoxic PVC, with a floor featuring air bubbles for traction, plus each of the three air rings inflate separately and have double-layer valves to prevent leakage and add side-wall stability. The pool is roughly five feet wide and just over one foot tall. 
2
Our Premium Round Pick
FUNBOY Luxury Inflatable Kiddie Pool
For a super-stylish kiddie pool, look no further than one from Funboy, based out of Venice Beach, California. With designs inspired by places such as Ibiza—like the one shown—and eye-candy tie dye, it's tough to choose just one. 
All are screen-printed by hand and made of phthalate-free PVC, with a double-ring inflatable air chamber, and integrated drain plug, plus valves that quickly inflate and deflate. The pool is five-and-a-half feet wide and one-and-a-half feet high, recommended for kids ages 6 and up.  
3
Best for Families
Hesung Family Kiddie Pool
More than 1,450 customers give rave reviews—and an impressive average 4.8 stars—to this high-quality kiddie pool, which is perfect for families and can comfortably fit two adults and two kids. It's made from phthalate- and lead-free vinyl that's UV-resistant, and several buyers attest to the material's thickness (it's 0.42mm) and durability. 
The rectangular pool is roughly eight feet long by four-and-a-half feet wide, and is just under two feet high. Each of the three rings has a separate air chamber, which helps keep the side wall sturdy, and it weighs a hefty 12 pounds. The pool is recommended for kids age 3 and up. 
4
Best for Large Families
Oyrgcik Family Kiddie Pool
Oyrgcik
amazon.com
$54.99
This pool is nearly 11 feet long by six feet wide—which makes it ideal for larger families looking to have splash-time fun. It's made of .40mm-thick BPA- and lead-free PVC with a thick bottom, and features a generous 350-gallon capacity, with three individual air chambers to hold its structure, plus a drain adapter for easy emptying. 
The pool comes with two repair patches and has a simple yet adorable aquatic design on the outer walls. It's also available in two smaller sizes.
5
Best With Sprinkler
Aqcss Kiddie Pool
For extra cooling off for kids without having to do a full dunk, a kiddie pool with sprinklers is the way to go. The water spray's height is adjustable for little ones (though it shouldn't be cranked up more than two-thirds of the pool's height), and the pool is constructed of BPA-free PVC. 
This two-toned blue option has a cute ocean scene on the bottom with grinning sea animals and boat-themed graphics like a helm and telescope. It's more than seven feet long and five feet wide, with a two-foot-high side wall. It features three separate air chambers for outer wall stability, which also helps prevent air leakage and comes with three repair patches. It's recommended for children ages 3 and up.
6
Best With Waterfall
Hamdol Kiddie Pool
Kids who are more comfortable with getting their heads and faces splashed from a stream of water from above are sure to love this pool. It features an elephant with an arced waterfall coming from its trunk, constructed of 0.4mm-thick PVC, with four air different chambers that each have a double intake and free flow exhaust value. 
It has a 153-gallon capacity and its design prevents it from being filled too high and overflowing. It's also considerably sizable—about eight feet long and six feet wide, with a side wall that's just under two feet high.
7
Best With Pump
Funavo Kiddie Pool
This inflatable kiddie pool is the only one in our roundup that comes with a pump—and it's a good deal, considering the price point isn't too far off from similarly sized options. The 340-gallon-capacity pool is made of 0.4mm-thick lead- and BPA-free PVC, with three individual air chambers. It's just over eight feet long, six feet wide, and just under two feet high.
The pool features a lovely beach scene on the outside, designed with attractive, non-garish hues. The electric pump is said to inflate the pool in five minutes or less and the pool comes with a drain pipe and hose, plus two repair patches. It's recommended for children ages 3 and up.  
8
Best Set of Two
Sloosh Inflatable Kiddie Pools (Set of Two)
Double the fun with this set of two kiddie pools, each with a different striking blue-and-white pattern. They're ideal for two friends to have separate play spaces next to each other, or for older and younger siblings who have different comfort levels in the water. 
Both are 3.75 feet wide and well under a foot high, recommended for little ones ages 3 and up. The three-chamber pools are made of PVC and come with repair patches for punctures.  
9
Best Set of Three
Joyin Inflatable Kiddie Pools (3 Pack)
This trio, priced at about $35 at the time of this writing, is another excellent value and gives you even more options for backyard playtime.
You can fill up one kiddie pool with water and the others in creative ways, like with pit balls (sold separately) or with ice for cold drinks and popsicles.
They come in irresistibly vibrant colors: one has a watermelon pattern, another looks like a giant donut with sprinkles, and the third is like a personal pizza loaded with toppings. Each is about four feet wide.
This content is created and maintained by a third party, and imported onto this page to help users provide their email addresses. You may be able to find more information about this and similar content at piano.io
Advertisement – Continue Reading Below
Most Related Links :
Business News
Governmental News
Finance News
Need Your Help Today. Your $1 can change life.
[charitable_donation_form campaign_id=57167]