US News
The 8 Best Portable Washing Machines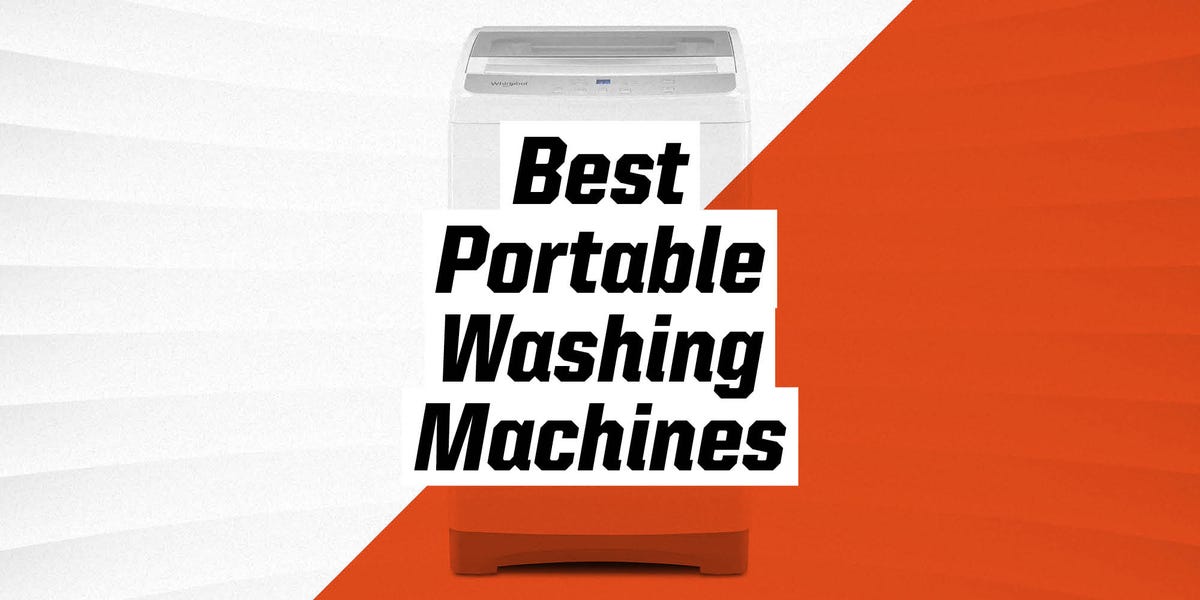 Staff, Courtesy of Whirlpool
The first commercial electric washing machine was introduced in the U.S. in 1907. Hurly Electric Laundry Equipment Co's product was called the Thor, a nod to the Norse God who summoned thunder and lightning through his mighty hammer. It was a fitting name for a product that must have seemed near miraculous at the time. Since then, there's been no stopping washing machines, and they've become a mainstay for households across the country.
In recent years, consumers have embraced smaller living spaces and mobile lifestyles, which can present a challenge when you're searching for a spot to install a washing machine. This doesn't mean you need to wash your clothes in the bathtub or schlep them to the laundromat, though. Portable washing machines are the ideal solution for homes that lack a dedicated washer hookup, small living spaces like apartments, tiny homes, and even boats or RVs. If you're not sure where to start, we've put together our top picks along with a short buying guide to help you choose the best portable washing machine for your space, budget, and lifestyle.
Types of Portable Washing Machines
Although portable washing machines tend to have widely varying features, they generally fall into two basic categories: manual and electric. Both have distinct advantages, depending on your situation.
Manual
Manual portable washing machines are the most eco-friendly choice since they're powered by human labor rather than outside energy sources. They're usually the most budget-friendly option and the best fit for off-grid lifestyles or places where power outlets aren't consistently available. Unfortunately, they usually involve foot pedals or hand cranks, which may be more difficult for disabled users to operate. They also tend to be smaller than electric models, which is great for portability for mobile lifestyles, but means you'll have to do your laundry in small batches.
Electric
Electric portable washing machines run the gamut when it comes to price, but many of the more expensive models perform as well as traditional washing machines and have many of the same features. If you're looking for the best portable washing machine for an apartment, electric units are usually an excellent option since they're the easiest to use. Most function just like a regular washing machine after you hook them up to a sink, right down to the LED screens. Bear in mind that "portable" is relative; electric portables can stand three feet tall and weigh as much as 100 pounds, although there are smaller and lighter options.
How much capacity do you need?
The largest unit here holds about half as much laundry as a conventional full-size unit. Some of the smallest portables are only large enough for a few garments at a time. Unfortunately, manufacturers don't rate capacity in a uniform way: Some use volume, others list by weight. What's best for you comes down to your living situation. If you have the space to store a larger unit, you'll rarely regret it.
How We Selected
I grew up camping and using portable washing machines in cabins and RVs. Since then, I've become a freelance journalist, writing frequently about travel, tiny homes, appliances, and maximizing small living spaces for Reader's Digest, Travel and Leisure, Southern Living, and USA Today, among others. To narrow down selections for this piece, I relied on personal experience, expert reviews, and consumer feedback. I also made it a priority to select portable washing machines for different budgets, lifestyles, and living spaces to ensure this guide was as inclusive as possible.
---
Best for Large Loads
GE 2.8 Cubic Foot Portable Washer
General Electric
wayfair.com
$764.00
Size: 37.4 x 24.5 x 24 in
Weight: 99 lb.
It's hard to go wrong with the GE 2.8 Cubic Foot Portable Washer. This electric unit is a real winner for ease of use. It's a snap to connect to your kitchen or bathroom sink, and one-touch controls allow you to pick between four different temperatures and eight wash cycle options to accommodate various fabrics. The capacity is about half of what you'd get with a full-size washing machine, which is generous for a portable model and makes it ideal for large families or anyone who needs to wash a lot of clothes. It also has load sensors to save water when washing smaller loads. The unit is a hefty 99 pounds, however the caster wheels make it easy to zip back and forth from your sink to your storage place.
Best Manual
Yirego Drumi Portable Washing Machine
Yirego
amazon.com
$399.00
Size: 21.65 x 19.29 x 18.11 in
Weight: 22 lb.
The Yirego Drumi Portable Washing Machine is manually operated, but unlike many other models in this category, it operates via a foot pedal, which many users found less labor intensive to operate than crank models. This unit is made from stainless steel, aluminum, and thick ASA plastic (a tough and durable ABS alternative that's widely used in the automotive industry). Despite the durable materials, some users have cited that their springs have failed within the first few months. A full cycle takes about 10 minutes, alternating between filling with water, working the foot pedals, draining the unit, refilling with clean water, and repeating the process. The drum is removable, so you can give it a good rinse to make sure it's clean for your next batch. The unit is portable enough to carry in an RV or boat, also. At $399, it's more expensive than your average manual portable washing machine, but the quality of the unit and ease of operation justify the price.  
Best For Rentals
Black+Decker Portable Washing Machine
Black+Decker
amazon.com
$328.88
Size: 20.3 x 36.6 x 20.7 in.
Weight: 70 lb.
If you're looking for the convenience and modern features that come with an electric washing machine but don't want to invest a ton of money because you're in a rental unit or other potentially non-permanent space, the Black+Decker Portable Washing Machine is a solid choice. This machine comes in three sizes for different space considerations, laundry needs, and budgets. The middle option, at 1.6 cubic feet of capacity, has six different cycles to choose from. It lacks load sensors, but water level can be adjusted with the touch of a button for small, medium, or large loads. This unit is almost 70 pounds, but built-in side handles and rollers make it easy to move around. 
Best For Camping
The Laundry Alternative Wonderwash Non-Electric Compact
The Laundry Alternative
amazon.com
$58.00
Size: 12 x 16 x 12 in.
Weight: 5 lb.
The Laundry Alternative Wonderwash Non-Electric Compact takes the prize when it comes to portability and affordability. It measures 12 x 16 x 12 inches and weighs just 5 pounds, so it's easy to take with you on camping trips, and just about anywhere else you may travel. The retro design is fun and fitting for a hand-crank model. The hand-crank also means you'll get a bit of a workout when you use it, which is either a deterrent or a benefit, depending on your situation and perspective. Luckily, most batches are done in one to two minutes, although it's better to rinse, refill, and repeat the process to truly get your clothes clean. Some users have reported leakage when using extremely hot water, so for that reason, we recommend you use cold or warm water only for this unit. 
Best Budget Electric
Super Deal Portable Compact Twin Tub Washing Machine
Super Deal
amazon.com
$122.58
Size: 25.2 x 22.5 x 14.96 in.
Weight: 22 lb.
The Super Deal Portable Compact Washing Machine gives you the easy functionality and benefits of an electric model combined with lightweight portability. It doesn't have wheels, but at 22 pounds, it's reasonable to lift and carry from place to place. There are only standard and soft cycles, but you can select wash and spin timing via the dial adjusters. The body is blue-tinted, translucent, high-density plastic so you can watch the machine at work. Since this portable washing machine comes with two tubs, you can put in a new load of laundry when you transfer the first load into the second tub for the spin cycle. Both sides can also be used together for larger single loads.
Best High-End/Luxury
Whirlpool 1.6 Cubic Foot Compact Washer
Whirlpool
homedepot.com
$899.00
Size: 46 x 23 x 21 in.
Weight: 80.6 lb.
If money is no object, the Whirlpool 1.6 Cubic Foot is hard to beat. There are five different temperature settings for wash and rinse, and you can customize your wash by adding or reducing the time on any of the six wash cycles. There are separate dispensers for bleach, detergent, and fabric softener just like you'd find on high-end full-size models, and the stainless steel drum was designed not to snag delicate clothing. It's easy to wheel into place with caster wheels and to hook up to your sink, but it can also be converted with leveling feet for a permanent installation if you have enough space. For the price, as nifty as this model is, it's best-suited to households looking for a long-term laundry solution. 
Best For Techies
Giantex Fully Automatic Portable Washing Machine
Giantex
amazon.com
$349.99
Size: 19.7 x 19.8 x 33.6 in.
Weight: 51 lb.
If you're looking for a portable washing machine with settings galore for different fabrics, the Giantex Full-Automatic Washing Machine has you covered with 1.34 cubic feet of load capacity, 10 different wash settings, and 8 different water-level settings. Luckily, the LED display makes them easy to identify and use. It's also simple to connect to your sink. This machine automatically adjusts for load imbalances during spin cycle, a nice touch if you leave it unattended. The downside of this unit is that it doesn't come with wheels, which can make it cumbersome to move if you don't have a permanent place for it, however you can always put it on top of a roller to make it easier to move back and forth from a storage space. 
Best For Tiny Spaces
Kuppet Mini Electric Portable Washing Machine
Kuppet
amazon.com
Size: 14.2 x 13.4 x 20 in.
Weight: 12.27 lb.
If you're in the market for an electric washing machine, but your storage space is limited, the Kuppet Mini Electric Portable Washing Machine is one of the smallest and lightest on our list. Although this unit doesn't have any of the bells and whistles of its larger electric counterparts, you can set the control to wash loads for up to 15 minutes at a time and customize by repeating the process for more soiled garments. It hooks up easily to your sink, and it's small enough to place on the counter while it's in use. 
This content is created and maintained by a third party, and imported onto this page to help users provide their email addresses. You may be able to find more information about this and similar content at piano.io
Most Related Links :
Business News
Governmental News
Finance News
Need Your Help Today. Your $1 can change life.
[charitable_donation_form campaign_id=57167]