US News
The 10 Best Fins for Diving, Snorkeling, and Swimming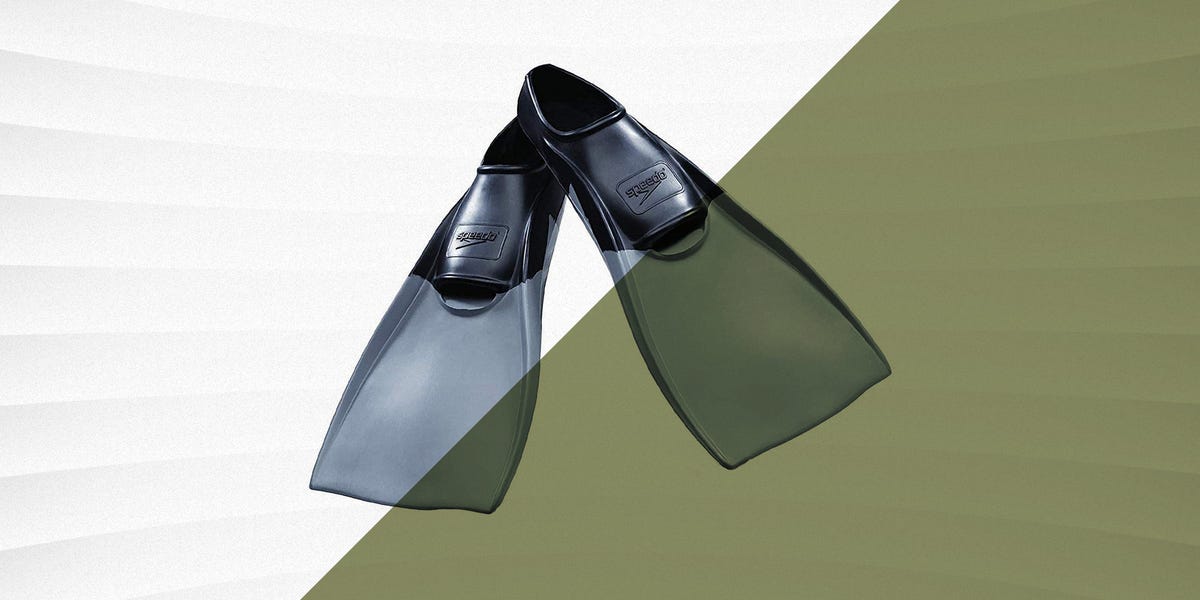 Staff, Courtesy of Speedo
Conserve energy while you swim, snorkel, or dive by wearing a set of fins (that is, flippers for the uninitiated). With the right pair underfoot, you'll be able to dive deeper, faster, and longer every time.
Renting or borrowing fins can be a painful process. Sore spots, blisters, and chafing can quickly cut a water session short. With a comfortable set of fins on your feet, you'll be like a fish—hardly noticing your fins at all. In this guide, we break down the different fin types and share our top recommendations so you can find your perfect pair.
Types of Fins
Every flipper has a foot pocket connected to a blade. When you kick, water passes over the blade's greater surface area, propelling you farther forward than your body alone can. Although all fins help you move more efficiently underwater, the shape and size varies depending on the activity for which they're made. As a rule, short fins are best for agility, whereas long fins help divers move forward with speed.
Fins or flippers made specifically for swimming have short, agile blades that help a swimmer maintain their form. Snorkel fins range from short to long and are flexible enough to help a snorkeler move on the surface of the water with ease. Scuba diving fins are designed to maximize kick power with their longer and wider blades, helping a scuba diver push not only themselves but also their gear through the water. Free diving fins are built with long, thin blades that help free divers and people who spearfish dive deep, expending as little energy as possible. If you're looking for one set of fins that can handle multiple sports, the Tusa FF-23 Solla is an affordable option.
Finding the Right Fit
Fins come with two heel types: open and closed. Open heel fins have a foot pocket with an adjustable back strap, making them easy to don and take off. This style is sometimes best worn with dive booties for comfort, warmth, and fit. The adjustability of open heel fins makes this style ideal for families and groups, because multiple people can tailor the fit of one pair. Closed heel fins have a full foot pocket that's available in set sizes, creating a better fit for greater energy transfer from leg to fin with each kick.
Fins are unisex and correspond to shoe size, though you'll want to check the size chart for each model. When sizing, take note if that model is best worn with bare feet, neoprene socks, or dive booties, and adjust accordingly. Dive booties come in multiple thicknesses, catering to varying water temperatures. The thicker the material, the more suitable it is for cold water. If you feel pinching, hot spots, or chafing, the foot pocket might not suit your foot shape, or you should try a larger size.
How We Evaluated
As an AIDA 3 free diver, experienced scuba diver, swimmer, and regular snorkeler, I have tested tens of fins personally. I'm also the founder of The Salt Sirens, a website about ocean sports. My dive writing has appeared in outlets such as Scuba Diving Magazine, Vice, Moon Travel Guides, and more. The selections below feature the best flippers for swimming, snorkeling, scuba diving, and free diving and include recommendations from industry professionals and athletes. I prioritized comfort, durability, effort-to-propulsion efficiency, and value for money when fine-tuning the list. I also scoured popular review websites, social media communities, and polled people within my network to see which fins are all but guaranteed to make your time in the water more enjoyable.
Best for Snorkeling
Cressi Palau Adjustable Fins
Key Specs
• Best For: Snorkeling
• Foot Pocket: Open
Cressi's Palau Adjustable Fins are versatile, comfortable, and work best as an all-around snorkeling fin. Wear them with booties for extra cushioning and warmth in cold water, though the soft silicone foot pockets are comfortable enough for bare feet. Available in extra-small to large, each option covers a range of standard shoe sizes, making it an ideal pick for families or friends who prefer to share gear among the group.
Heel strap can pinch smaller feet
Best for Swimming
Speedo Swim Fin
Key Specs
• Best For: Swimming
• Foot Pocket: Closed
The Speedo Swim Fin is a top choice for swimmers looking for a little extra power in the pool or calm open water conditions. The length of the blade is shorter than a typical snorkeling fin but longer than most pool training fins—making it a great all-around fin for swimmers who want to fine tune their technique in calm water. 
Not powerful enough for heavy currents
Best for Scuba Diving
Mares Avanti Quattro Plus
Key Specs
• Best For: Scuba diving
• Foot Pocket: Open
The Mares Avanti Quattro Plus is a popular scuba diving fin frequently seen on the feet of dive industry professionals. Four channels along the blade help convert each kick into powerful forward thrust with little effort. A bungy heel strap system makes putting on and taking off the fins quick and easy, and it's most comfortable when worn with booties. For a similar fin that works better for snorkeling than scuba diving because of its closed foot pocket, consider the Mares Avanti Quattro Power model.
Best for Free Diving and Spearfishing
Cressi Gara Modular Impulse
Cressi
amazon.com
$149.99
Key Specs
• Best For: Free diving or spearfishing
• Foot Pocket: Closed
With long blades angled to propel divers deeper with little effort, the Cressi Gara Modular Impulse is a good choice for beginner to intermediate free divers and spearfishermen. Unlike fiberglass and carbon fiber free diving blades, the plastic blades on the Gara Modular Impulse are durable—you won't have to babysit them when you travel. The foot pocket detaches from the blade, making this great pair of fins for free divers who want to expand their fin quiver with minimal gear.
Foot pocket can cause blisters when worn without neoprene socks
Best Travel Pair
Scubapro Go Sport
Scubapro
amazon.com
$139.00
Key Specs
• Best For: Snorkeling and scuba diving
• Foot Pocket: Open
For traveling divers and snorkelers, the Scubapro Go Sport is a compact and lightweight set of fins that can adapt to a variety of ocean conditions. These fins are best worn with dive booties, and a bungy heel strap creates a snug and efficient fit. The relatively short blade on these fins makes them agile enough for snorkeling, especially around wrecks and reefs.
Heel strap can be finicky
Best for Beginning Divers
Tusa SF-22 Solla
Key Specs
• Best For: Scuba diving or snorkeling
• Foot Pocket: Open or closed
The Tusa SF-22 Solla is a common set of fins spotted at dive schools and centers thanks to its adjustable open straps and efficient propulsion system. The large, flexible blade with multiple channels makes it easy to navigate mild currents with little effort. Best worn with booties, the foot pocket fits snug and comfortable, with plenty of grip on the bottom of the fin to scoot around on slippery boat decks. There's also a closed pocket model, if you prefer.
Best for Experienced Free Divers
Leaderfins Pure Carbon
Leaderfins
amazon.com
$234.00
Key Specs
• Best For: Free diving
• Foot Pocket: Closed 
When it comes to value for money, the Leaderfins Pure Carbon are one of the best sets of high-performance fins for intermediate to experienced free divers. The blade is made from carbon and fortified with epoxy resin, making it highly flexible. Rails from the foot pocket to blade tip assist with kicking efficiency. Choose from four blade stiffness levels, ranging from extra soft to hard. The softer blades are better for beginner free divers who want to focus on form.
High performance
Multiple stiffness options
Best Training Tool for Swimmers
TYR Stryker Swim Fins
TYR
dickssportinggoods.com
$39.99
Key Specs
• Best For: Swimming
• Foot Pocket: Closed 
The silicone Stryker Swim Fins have small, pointed blades made for swim training, so you can perfect your flutter kick. Swimming with flippers in the pool can translate into more ankle flexibility, better technique, and body positioning when you're swimming without fins or diving with larger fins. TYR's size chart can be confusing—if in doubt, size down.
Assists swim technique
Affordable
White silicone scuffs easily
Sizing isn't straightforward
Easy to Maneuver
Atomic Aquatics Full Foot SplitFin
Atomic Aquatics
amazon.com
$88.15
Key Specs
• Best For: Scuba diving or snorkeling
• Foot Pocket: Closed or open
The Atomic Aquatics Full Foot SplitFin has a slit down the middle of the blade, creating a propulsion that mimics a propeller with each kick. This split-fin design is ideal for beginner divers and snorkelers or people who have knee pain or limited leg mobility. Although split fins don't provide as much speed as full blade fins do, many divers and snorkelers find split fins easier to maneuver. Atomic Aquatics allows sells this flipper with an open heel.
Not as fast as other models
Most Innovative
Scubapro Seawing Nova
Scubapro
amazon.com
$229.00
Key Specs:• Best For: Scuba diving• Foot Pocket: Open or closed Scubapro's Seawing Nova fins are one of the most innovative fin designs on the market. The blade of the fin connects to the foot pocket with a hinge, allowing for low drag and propulsion with little effort. The hinge design also makes this fin agile in tight spaces and when turning. Because of its bulky size and positive buoyancy, it's not the most comfortable fin for snorkeling on top of the water. For greater kicking efficiency, choose the closed foot model.
This content is created and maintained by a third party, and imported onto this page to help users provide their email addresses. You may be able to find more information about this and similar content at piano.io
Most Related Links :
Business News
Governmental News
Finance News
Need Your Help Today. Your $1 can change life.
[charitable_donation_form campaign_id=57167]