US News
How To Build a Floating Shelf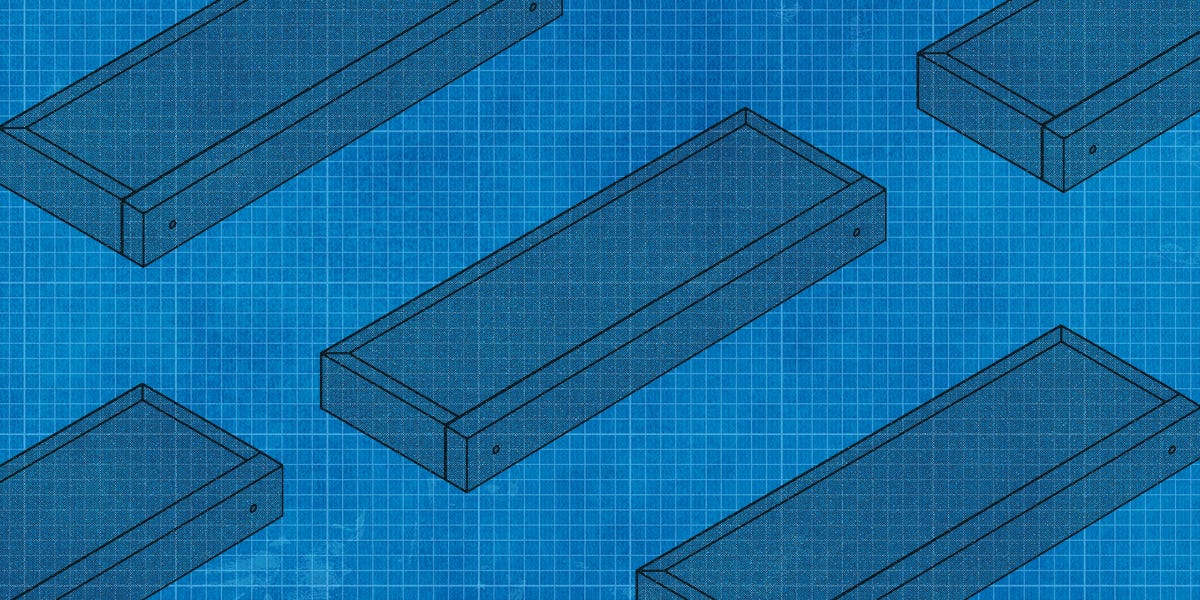 POP Projects is a collection of new and classic projects from more than a century of Popular Mechanics. Master skills, get tool recommendations, and, most importantly, build something of your very own.
---
Floating shelves are easy to put together, and by attaching directly to the wall, they deliver a clean, professional look that can be versatile in any space.
Our design (shown below) is easy to build and install. It's also forgiving of small inaccuracies in construction and installation. Unlike other methods—like boring holes into wall studs and using metal bars or dowels to install the shelves—this design requires less precision, but still provides a professional looking result.
These Tools Will Help
Plans and Materials
💡 Before you start: This shelf is basically a hollow box fitted over a support screwed into the wall. The sides are made of 2x4s, while the top and bottom are ¼" plywood. A standard 2×4 is about 3 ½" wide, so this shelf ends up being 3 ½" thick. If you want a slimmer shelf, you can rip your 2×4 to the thickness you prefer.
Cut Down Your 2×4
You can customize the length and depth of your shelf as needed to fit your space. However, this design works best for shelves under 24-in. long and 6-in. deep. My shelf is 22-in. long and 6-in. deep, so I needed two side pieces 6-in. long and one front piece 22-in. long. That adds to about 34-in. of board length. I cut a 40-in. piece off my 2×4 to give myself wiggle room for making exact cuts later.
Cut Rabbets Into Your 2×4
Before cutting the shelf pieces to their exact lengths, cut a notch, or rabbet, into the top and bottom of the 2×4 to accommodate your plywood—that's 1⁄4-in. for 1⁄4-in. plywood.
You can do this using a router with a rabbeting bit, or you can make two cuts on a table saw like I did: Set the blade height to the thickness of the plywood you are using. In this case, it was 1⁄4-in. Then, set the rip fence about 3⁄4-in. from the blade.
Run the 2×4 board through to make the first cut on both the top and the bottom side. Double check that your cut is the same depth as the thickness of your plywood and adjust as needed.
Then, lay your 2×4 flat on the table and adjust the table saw blade height to about 3⁄4-in. so that it comes up to the cut on the edge of the board. Adjust the rip fence so that the blade will work right along the bottom of the first cut.
⚠️ Stand slightly to the left of the blade, so that if the offcut is pinched it won't hit you.
Run the board through on each side to create the rabbet on both the top and the bottom. Double check your plywood fits into this rabbet and repeat any cuts as needed to adjust.
Cut and Assemble the Frame
Once the rabbets are cut, adjust the miter angle on your miter saw to 45 degrees. Cut two pieces for the shelf sides 6-in. long (or whatever depth you determined your shelf to be) with one square and one mitered end. Make sure the rabbets are on the shorter side for all these mitered cuts.
Then, cut a front piece with 45-degree mitered ends not parallel to each other 22-in. long (or your shelf length).
I assembled the pieces with wood glue and painter's tape at the mitered corners. For extra hold, you could also use wood screws or shoot a couple nails. Allow the glue to dry completely.
Cut and Attach the Plywood
Measure the inside of the rabbeted notches and cut two pieces of plywood to fit. In this case, my plywood was 5¼-in. x 20½-in.
Apply wood glue along the rabbets and place the plywood inside. Secure the plywood until the glue dries with a couple brad nails.
Putty and sand as needed, and apply a finish as desired. I primed and painted this shelf satin black (color: SW Black Magic), but an oil-based wood stain would look great for this as well.
Cut and Install the Support
Measure the opening inside the back of the hollow shelf box. Trim a piece of 2×4 to 1⁄8-in. smaller in width and depth than the opening to allow a little bit of wiggle room so the box can slide over this piece when it's installed into the wall.
Screw this piece into two wall studs—or at least one stud and one wall anchor—with 2 ½-in. to 3-in. wood screws, checking the alignment with a level.
Install the Shelf
Slide the shelf over the installed support and use a couple 2 ½-in. wood screws on each side to secure it in place.
Then, add your favorite items to display.
Most Related Links :
Business News
Governmental News
Finance News
Need Your Help Today. Your $1 can change life.
[charitable_donation_form campaign_id=57167]