US News
10 Birdbaths That Will Bring All the Birds to Your Yard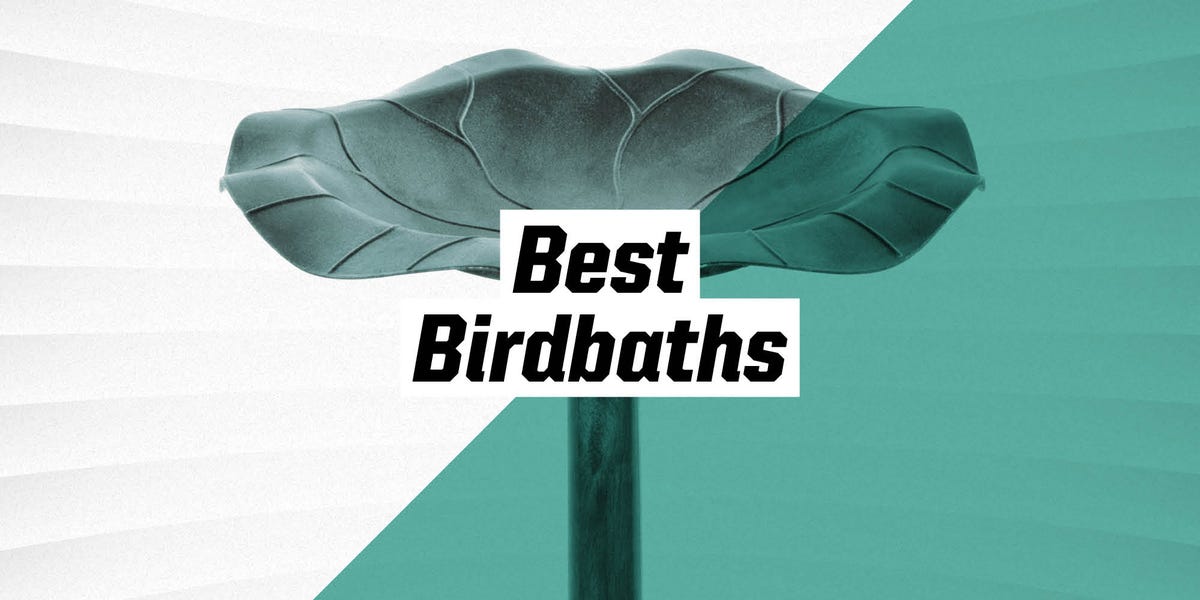 Staff, Courtesy of Amazon
Birdbaths, a favorite of birdwatchers everywhere, offer feathered friends a place to bathe, preen, and drink. They also make a nice addition to your garden décor.
What to Consider
At first glance, birdbaths seem pretty straightforward, but there's more to these yard oases than meets the eye. Here are some things to consider before you buy.
Material
Materials include metal, glass, natural stone, ceramic, cast concrete and resin. Some, like glass and ceramic, must be moved inside in winter. Choose a material that's easy to clean, like ceramic, resin, metal or glass.
Basin design
You have your pick of options, including plain basins, heated basins, and fountains.
Plain basins are classic but can get stagnant and attract pests, so they need to be cleaned weekly.
Heated baths make it easier for birds to drink in winter. Don't add a deicer to a ceramic or concrete bath, since heating cold, porous materials can crack them.
Birds are drawn to moving water. If your bath doesn't have a fountain, mister, or wiggler, add a solar- or battery-operated one.
One to three inches deep is best; anything over that is too deep unless the bath has a rim. Mitigate a too-deep bath by adding pea gravel or flat rocks to the bottom.
Support
This includes pedestals, stands, poles, hangers, rail-mounts and bowls that sit right on the ground.
Pedestals offer the most stability and are easy to clean and refill.
Pick a pole with more than one leg or with extra anchors to withstand rough weather.
Hangers give you great views near windows, but blow in the breeze and require you to take them down to clean and refill them.
Rail-mounted birdbaths, screwed or clamped onto a deck rail, are a good height for birdwatching and they're easy to refill and clean. But they can fall if not well secured. Plus, you're likely to end up with bird poop on the rail.
Ground-level basins attract birds that like puddles but can be easy for other critters to get into (like skunks and raccoons) and are liable to get dirtier than taller baths.
How We Selected
The birdbaths in our selection average at least four stars, and most rank 4.5-star ratings or higher. We feature birdbaths made for a range of yards (including hanging and mounted ones for small yards and apartments), plus options at multiple price points, from downright cheap to high-end, for those with more to spend. We also highlight different sizes, heights, and materials, to help you decide which is the right fit for you.
Advertisement – Continue Reading Below
1
Best Large Birdbath
Best Choice Products Lily Leaf Pedestal Birdbath
Best Choice Products
walmart.com
$32.99
This polyresin birdbath, made to look like metal, is weather- and UV-resistant. At almost 20 inches across, it lets many feathered friends bathe at once. The material is extremely lightweight (some reviewers called it flimsy), but it comes with anchors and can be further stabilized by pouring sand, gravel or water in the base.
2
Best Metal Birdbath
Ancient Graffiti Solid Copper Birdbath with Iron Twig Stake
Ancient Graffiti
amazon.com
$99.99
Made of solid copper and coated to prevent oxidation, this pretty birdbath sits on a stand designed to look like a twig. Lightweight and easy to clean, it's a bit on the small side (around 14 inches), but at one and a half inches deep, it's the perfect depth for birds to enjoy. 
3
Best Short Birdbath
Ancient Graffiti Copper Plated Steel Bird Bath
Ancient Graffiti
walmart.com
$94.10
If you want a birdbath that's lower to the ground, try this copper-plated basin. It sits on a 22-inch base and has a ring to suspend a plant in, offering more stability and beauty. The basin can get too deep if filled, so add some flat rocks for birds to perch on while they bathe.
4
Best Ceramic Birdbath
The Sun Pottery Company Ceramic Bird Bath
Sun Pottery
walmart.com
$126.99
A traditional pedestal birdbath, this ceramic option has been kiln-fired to increase durability. It's frost-proof to -4 degrees Fahrenheit, so it can stay out year-round in climates with mild winters. Ceramic can be slippery, though, so add some flat rocks or spread a thin layer of pea gravel on the bottom of the bath to improve footing.
5
Best Wall-Mounted Birdbath
Stover Burnt Birdbath
Charlton Home
wayfair.com
$99.99
Are you a birdwatcher? This wall-mounted birdbath will bring the birds to you. Mount the bath to a porch, deck, or fence post. The bowl is wide enough for several birds and shallow enough that birds can easily take a dip. Make sure it's well-secured so it doesn't fall in windy weather. 
6
Best 2-in-1 Birdfeeder
Pennington Cedar Wild Bird Bath and Feeder
Pennington
walmart.com
$8.99
If you're looking for the best bang for your buck, this is it. The durable cedar base has a removable tray that doubles as a feeder and birdbath. It's easy to assemble and clean, and naturally weather resistant. 
The only downside is its size. At just over a foot, it may be tough for several birds to bathe at once. But at this price, you can buy more than one and create your very own bird spa.
7
Best Solar Birdbath
Hibbitts Solar Birdbath
Loon Peak
wayfair.com
$244.99
Double down on your garden décor by buying a birdbath that's also a fountain. It's made of easy-to-clean glass fiber reinforced concrete in a rustic finish. And it's solar powered, so no electricity is required. The bowl is deep, though, so you may want to add some rocks for birds to perch on.
8
Best Heated Birdbath
Gesail Heated Bird Bath
There are three ways to mount this clever heated birdbath: with a clamp, on a post or fence, and on the ground. The bowl pops out, making it easy to clean and refill. The heater is on a thermostat, so it only comes on when you need it, saving energy. And if you want to use the birdbath in warm weather, the cord tucks away. It's very shallow, though, so you'll have to fill it often.
9
Best Traditional Birdbath
Aitkin Tea Table Birdbath
Darby Home Co
wayfair.com
$279.99
Made of cast stone with an Old World patina this birdbath is designed for lifetime use. It's easy to clean, and the wide bowl makes it good for hosting a flock. However, the concrete will crack in winter, so you'll have to schlep the heavy bowl indoors every fall.
10
Best Bowl Birdbath
The Crabby Nook Hand-Carved Granite Birdbath
The Crabby Nook
amazon.com
$275.00
A unique basin of hand-carved granite, this sits-on-the-ground birdbath has a hand-carved rim for birds to stand on. It's exactly the right depth for birds to splash in, and because it's stone, doesn't have to be moved into the house in cold weather. That's a good thing—because it weighs in at 60 pounds!
This content is created and maintained by a third party, and imported onto this page to help users provide their email addresses. You may be able to find more information about this and similar content at piano.io
Advertisement – Continue Reading Below
Most Related Links :
Business News
Governmental News
Finance News
Need Your Help Today. Your $1 can change life.
[charitable_donation_form campaign_id=57167]