Politics
Afghan exit heralds 'new stage of chaos' which could bring US and China into conflict, MP warns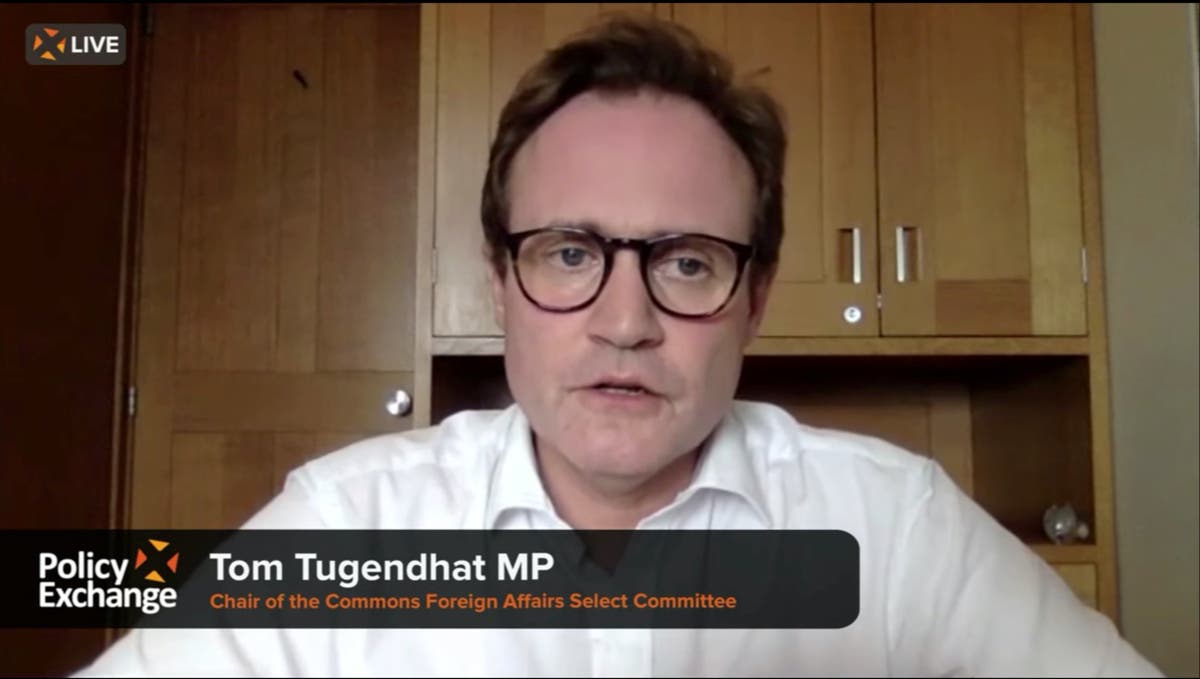 The fall of Afghanistan is "only the beginning of a new stage of chaos" which could see the US and China drawn into conflict, a leading parliamentarian has warned.
The chair of the Commons Foreign Affairs Committee, Tom Tugendhat, said it was "absolutely predictable" that Taliban victory would lead to regional instability and the export of terrorism to countries including the UK.
But he also warned that Beijing could see the display of American weakness as a moment when China should "flex its muscles" militarily, leading to the danger of confrontation in flashpoint like Taiwan and the South China Sea.
Mr Tugendhat, a former soldier who served in Afghanistan, told a seminar hosted by the Policy Exchange thinktank that US President Joe Biden would be wrong to believe that the withdrawal of the final American troops from the country meant the war was over.
"This isn't over," said the MP. "This is only the beginning of a new stage of chaos."
Inside Afghanistan, the Taliban was already "turning on itself", with signs of disunity between different parts of the movement raising the prospect of "chaos streaming over the border" into neighbouring states," said Mr Tugendhat.
And he warned: "Whenever you have an Islamist extremist movement owning a piece of territory – whether it's a nation state or whether it's only a partial piece of one – we know what follows.
"It's absolutely predictable we end up with a violent extremist terrorist group harboured there exporting violence, and some of that violence comes to us. I see absolutely no reason to expect that what we're going to see out of Afghanistan is going to be different."
The Taliban victory would inspire terrorist violence in areas like Xinjiang, Chechnya and North Africa, he said.
But he said he was "very concerned" over China's interpretation of the retreat as a sign of failure and weakness on the part of the US.
"There is a possibility that China reads this weakness and decides that this is now therefore the moment at which it can flex its muscles," he said. "And the US, feeling that otherwise it will look weak, will feel that it has to respond.

UK news in pictures
Show all 50
"There is also of course the possibility that the US, feeling that it has to demonstrate that this isn't a moment of weakness, will seek to invest greater efforts into alliances which China will read as aggression.
"So this is one of those moments where it's not the balance of power that triggers conflict, it is the imbalance of power. It's the moment when parties have a different perception of each other's strengths and weakness that conflict is likely to arise, and at a moment like this, there is the strong possibility that that's exactly what we're going to see."
Mr Tugendhat said that defeat in Afghanistan was "a choice that we have made" and which was contributed to by three successive US presidents – Barack Obama, Donald Trump and Joe Biden.
"The reality is defeat was not inevitable, defeat is a choice in a conflict like this and it is a choice that we have made," he said.
"The reality is this is a decision made by not only this president but two former presidents, to effectively announce the departure, sign the instruments of surrender and then withdraw in three different terms. That is an extraordinary thing for three successive US administrations to do.
"This is a staggering moment … but let's not pretend this is only an American failure, because the reality is that this was a Nato operation."
Former national security adviser Mark Sedwill told the seminar that the withdrawal of international troops from Afghanistan was an act of "strategic self-harm" that will "fuel" terrorism worldwide.
"This is in my view a bad policy, badly implemented. It is an act of strategic self-harm," said Lord Sedwill.
"It was not inevitable that either this decision had to be taken or indeed it had to be implemented in the way it was."
The former Cabinet secretary, who served as an ambassador to Afghanistan, said: "The Taliban's victory in Afghanistan will undoubtedly fuel extremism and terrorism worldwide, whether or not it is directed from there.
"So the security threats have undoubtedly gone up and of course the wider geopolitical consequences are obvious.
"If you are one of our authoritarian adversaries you will be right now going around the rest of the world to those countries that are in play and saying to them, 'You see, we told you so, we have the strategic patience and they don't'."
Former Nato secretary-general George Robertson, who led the alliance when the Taliban was initially toppled in the wake of the 9/11 attacks, said that it was time to reassemble the coalition of Western and regional powers which united successfully in 2001 to root terrorism out of the country.
Lord Robertson told the seminar that he felt "shame, dismay and a lot of sadness" to see advances in Afghanistan undone by what he termed "a hasty, crassly-handled surrender to the people that we fought and defeated 20 years ago".
He said: "Nato and the West, whatever we like to think, have been weakened. That remarkable solidarity of 20 years ago has been damaged. And the mighty United States of America has been humiliated,
"The coalition of self-interested neighbours, which we assembled in 2001 with a United Nations mandate was quite incredibly over the years allowed to wither. I think it's necessary that it is reassembled, because nobody – even those countries who are cheering today – will be safe with Isis-K, al-Qaeda and the general ragbag of jihadi extremists who have now assembled in Afghanistan.
"The tentacles of radical jihad will not stay in just one country."
Lord Robertson warned that European members of Nato must take the lesson from the US retreat that they can no longer rely on Washington for their defence.
"Nato, and indeed the European Union, have got to look very very seriously at the security world post-Afghanistan," he said.
"It isa fact – and this applied during the Trump administration as well as this one – that we cannot any longer rely on the American umbrella being there in all situations, at all times.
"Therefore a much more serious approach has now got to be taken to the idea of Alliance solidarity, and the European role within it, if we're going to keep our people safe."
Most Related Links :
Business News
Governmental News
Finance News
Need Your Help Today. Your $1 can change life.
[charitable_donation_form campaign_id=57167]