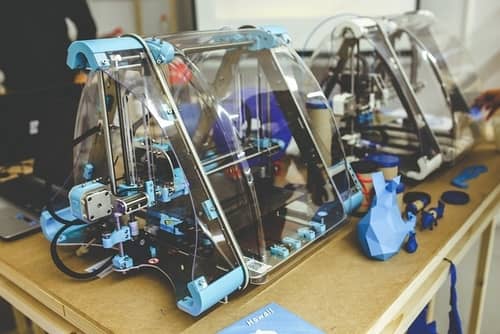 With the 3D printing industry expected to be worth US$42.9 billion by 2025, INN takes a deep dive into the market.
3D printing has always been a niche market, with a few top 3D printing companies dominating the up-and-coming space. That said, the 3D printing industry is growing rapidly, and is expected to be worth more than US$34.8 billion by 2026.
Factors contributing to this growth will include mass customization, production of complex parts, government investment in 3D printing and improvements with respect to manufacturing efficiency.
For those interested in jumping into this exciting market, it's worth becoming familiar with the top 3D printing companies. Below the Investing News Network provides an overview of some of the biggest 3D printing stocks in the industry by market cap. All data was collected using TradingView's Stock Screener on August 31, 2021.
1. AutoDesk (NASDAQ:ADSK)
Market cap: US$68.22 billion
First on our list of top 3D printing companies is multinational software developer AutoDesk. The company makes 3D design software products and services for a broad range of industries, including architecture, engineering, construction, manufacturing, media, education and entertainment.
Autodesk generates revenue through a subscription model. The company demonstrates strong renewal rates. Its most popular product is the Fusion 360 3D modelling platform, which as of August 2021 has more than 165,000 paying subscribers.
2. HP (NYSE:HPQ)
Market cap: US$35.73 billion
Although it is not strictly a 3D printing company, Hewlett Packard (HP) devotes some of its resources to leveraging 3D printing technology for mainstream manufacturing. It is making inroads with its Multi Jet Fusion technology, and in 2017 it unveiled the world's first state-of-the-art laboratory to help companies develop, test and deliver the next generation of materials and applications for 3D printing.
HP also has a 3D printing center in Guangdong, China, putting it at the epicenter of the world's US$12 trillion manufacturing sector. This foothold shows HP's commitment to the 3D printing market.
HP CEO Enrique Lores recently pointed out how the COVID-19 pandemic has shined a light on the importance of having the capability to quickly manufacture products onsite where they are needed in critical times. "It is really highlighting how 3-D printing has the potential of transforming the manufacturing industry," Lores said. "This is a great example of its capabilities."
3. 3D Systems (NYSE:DDD)
Market cap: US$3.81 billion
Since 1983, 3D Systems has been providing 3D products and services. This includes everything from 3D printers and print materials to parts services and digital design tools. Chuck Hull — the inventor of stereolithography — is the company's co-founder, executive vice president and chief technology officer.
As a printer manufacturer, naturally 3D Systems aims to simplify this process through streamlining the supply chain for manufacturing companies. This is accomplished by providing both the raw materials — such as metal powder and plastic filament — and computer numerical control (CNC) machining. CNC machining is a process in which computers control the directions of a machine; 3D Systems uses this technology to build electronic parts and to do machine engraving.
3D Systems covers several industries with its products, such as manufacturing, design and engineering, 3D scanning and healthcare.
4. Desktop Metal (NYSE:DM)
Market cap: US$2.16 billion
Technology company Desktop Metal designs and markets metal 3D printing systems for engineers, designers and manufacturers. The company has experienced rapid growth over the past few years, including through headline-grabbing acquisitions.
Desktop Metal's most recent acquisition is another leader in the 3D printing industry, ExOne, with which the company has entered into a definitive agreement valued at US$575 million. ExOne's proprietary Binder Jetting technology was developed at the Massachusetts Institute of Technology and is designed to print complex parts utilizing industrial-grade materials.
5. Proto Labs (NYSE:PRLB)
Market cap: US$2.06 billion
Proto Labs specializes in rapid prototyping using three additive processes: stereolithography, selective laser sintering and direct metal laser sintering. Along with this, its additive manufacturing technology produces plastic parts using its 3D carbon digital light synthesis printing methods. Proto Labs launched its industrial-grade 3D printing services in 2014; since then, it has become a leader in assisting developers, designers and engineers in moving from prototyping to low-volume production.
Founded in 1999, the company has eight manufacturing locations on three continents, with its global headquarters located in Minnesota. The company calls itself the fastest digital manufacturer of prototypes the world over. In 2020, Proto Labs announced it can now provide the aerospace industry with the ability to 3D print cobalt chrome materials using direct metal laser sintering.
6. Nano Dimension (NASDAQ:NNDM)
Market cap: US$1.64 billion
Nano Dimension is focused on 3D electronics printing and nanotechnology-based ink products. Its flagship products include the DragonFly 2020 3D printer, which can print high-resolution, multilayer circuit boards in a few hours, compared to weeks or months for others.
The applications of Nano Dimension's technologies include sensors, antennas, magnets and molded interconnected devices.
7. Stratasys (NASDAQ:SSYS)
Market cap: US$1.37 billion
Stratasys has been in the 3D printing business since 1988, and operates primarily in the healthcare, aerospace, automotive and education markets. At a global scale, the company holds over 600 granted or pending additive manufacturing patents.
Some of its key patents are for the FDM, PolyJet and WDM 3D printing technologies. These create prototypes and manufactured goods directly from 3D computer-aided design files and other 3D content. The company's subsidiaries include MakerBot, GrabCAD, RedEye On Demand and Solid Concepts.
8. Materialise (NASDAQ:MTLS)
Market cap: US$1.25 billion
Materialise has been providing software solutions and 3D printing services for over 25 years. It is a Belgium-based company that prides itself on focusing on software and services in the 3D printing industry. The company has a portfolio of over 95 patents and 165 more pending.
Over the years, Materialise has partnered with designers at Paris Fashion Week, Volvo (OTC Pink:VLVLY,FWB:VOL3) and Adidas (OTC Pink:ADDYY,ETR:ADS). In addition, the company has partnered with HP on its Jet Fusion 3D 4200 technology, as well as to make customized 3D printed shoe insoles as part of HP's FitStation software. Recently, Materialise introduced 3D printing service using up to 100 percent re-used powder.
9. Organovo (NASDAQ:ONVO)
Market cap: US$66.68 million
Organovo uses 3D bioprinting technology to create 3D functional human tissues for medical research and surgical and therapeutic applications. These 3D printed tissues can be implanted or delivered into the human body. The company is also active in researching specific tissues for therapeutic use in direct surgical applications.
Organovo has partnered with biopharmaceutical companies and medical centers to design, build and validate "more predictive" in vitro tissues for disease modeling and toxicology.
10. Voxeljet (NYSE:VJET)
Market cap: US$42.78 million
Voxeljet is a manufacturer of 3D printing systems for industrial applications. Among others, the company services industries such as automotive, reverse engineering, aerospace, pumps and heavy industry, architecture, art, design and film and museums.
Voxeljet's portfolio ranges from research systems to 3D systems for large-format production, as well as a chemical 3D printing process. In 2017, the company unveiled its high-speed sintering, and in 2018 it expanded the number of specialty materials it can use for its high-speed sintering line. Voxeljet is also developing its new VJET X, which launched in June 2019. Today, the company has more than 420 patents and patent applications, and one of the largest 3D parts production centers in Europe.
This is an updated version of an article first published by the Investing News Network in 2015.
Don't forget to follow us @INN_Technology for real-time news updates!
Securities Disclosure: I, Melissa Pistilli, hold no direct investment interest in any company mentioned in this article.

Most Related Links :
Business News Governmental News Finance News

Need Your Help Today. Your $1 can change life.
[charitable_donation_form campaign_id=57167]