Entertainment
Who is Emma Raducanu? Everything you need to know about the 18-year-old Wimbledon hopeful, from smashing her A-levels to making tennis history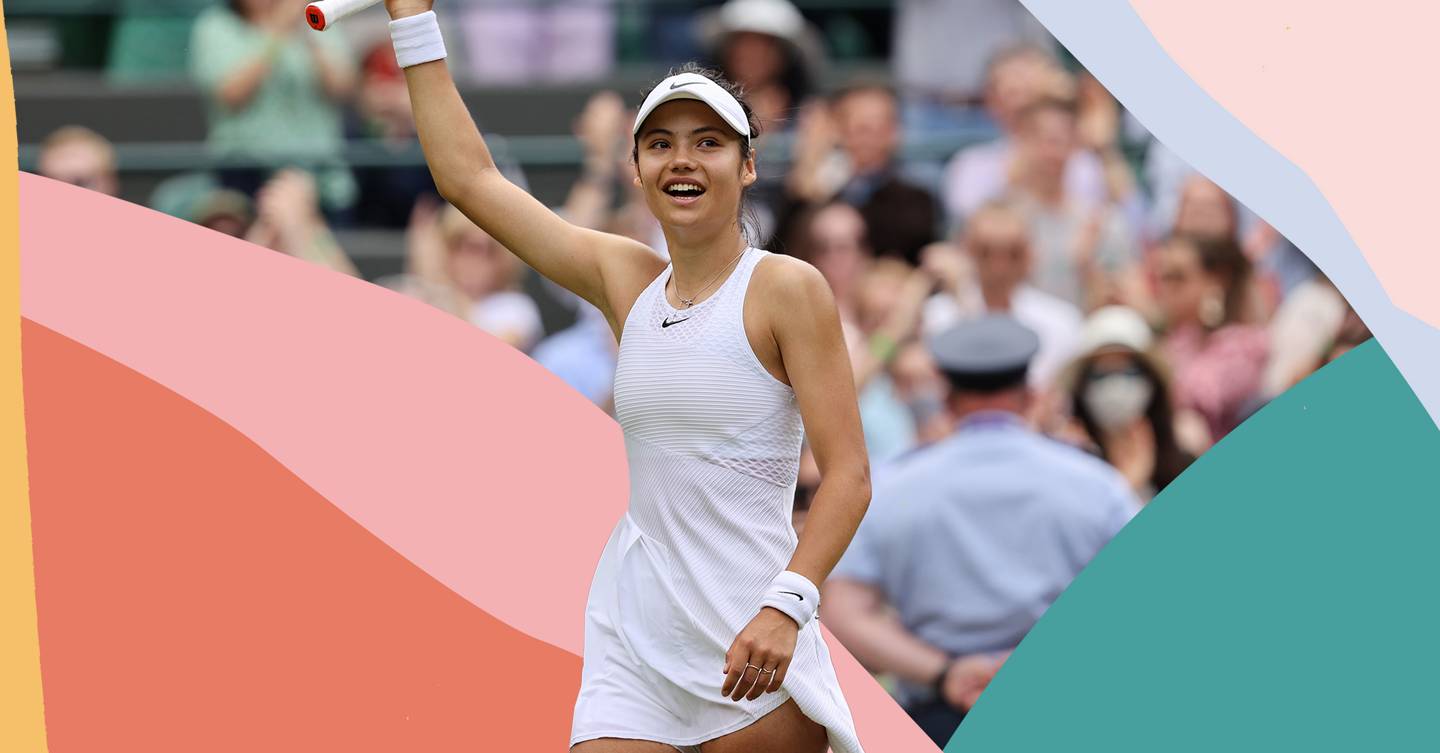 If you haven't been watching Wimbledon 2021, then I'm sorry to say it, but you've missed out. Big time. Having been cancelled last year due to the Coronavirus pandemic, Wimbledon has made an explosive return. And it's not just Kate Middleton's fashion choices and the unexpected celeb appearances (is that you Phoebe Dynevor and Pete Davidson?) that are keeping us on our toes.
Ranked 338th in the world, Emma Raducanu has blown Wimbledon away by becoming the youngest British woman to make it to the Round of 16 during the competition's Open Era. At just 18-years-old (!!!), Emma's certainly giving Wimbledon's home crowd something to get excited about. I mean, she's literally still a teenager?
Born in Canada, Emma and her family moved to London when she was two-years-old. Since then, she's been a high-achiever on and off the tennis court, smashing her A-levels and, most recently, beating 45th ranked Sorana Cirstea at the most prestigious tennis competition of all.
Here's everything you need to know about Emma Raducanu, the unofficial star of Wimbledon 2021.
She's already a record-breaker
Emma is only the fourth British teenager to make the Round of 16 at Wimbledon in the so-called 'Open Era' of tennis, which started in 1968 and basically refers to the time when Grand Slam competitions starting allowing amateurs to compete with professionals.
At 18 years and 239 days old (via WTA Tennis), she's also the youngest teenager of the bunch to make it to the Round of 16.
She's just completed her A-levels
Remember A-levels? Those pesky end-of-year exams that we felt our lives depended on? Colour-coordinated revision notes? Anyone? While many of us may have chosen to forget this stressful period of our teenage lives, Emma Raducanu breezed through hers literally two months ago.
According to WTA Tennis, Emma sat her Maths and Economics A-levels two months ago.
In an interview, Emma said, "Everyone thinks I'm absolutely fanatic about my school results. They think I have such an inflated ego about it."
She continued, "I think my parents just think I'm crazy. I won't accept anything less than an A star. I think that's what people around me think about me. I also feel like I have to live up to that expectation now. That's why I also work so hard to try and get those grades. I'm not sure what I'm going to come back with, but I did my part, I did my best."
She's taking each day as it comes
Speaking to WTA Tennis, Emma said, "I think for me, someone who has not been able to compete much, has always been sort of held back by something, I think that just to be able to be at The Championships, I feel like I'm on a holiday, like it's unbelievable. I just want to stay here for as long as I can."
She continued, "I think playing in front of a home crowd definitely helps. I mean, their support is so loud and they're so behind me. I'm really grateful. I've definitely got that in the back of my mind."
She's fearless
According to Emma's coach, Matt James, she was born to be a star. In an interview with Tennis Head, James said, "You could tell straight away that she's pretty special.
"The mindset and the maturity on the match court you don't see very often, I hadn't seen at all really. So that was quite exciting. This is the first time she's fully committed to a tennis career so it's great she's had success so quickly. But it was just a case of when. It was going to be inevitable with her that she was going to burst onto the scene.
"It's probably a little bit sooner than I thought because she hasn't played many matches in the last year but she's really taken her opportunity.
"She's three matches in and physically she looks strong. She'll be worrying all the opponents now. I don't think Emma really fears anyone."
Emma will face Alja Tomljanovic today to battle it out for a place in the Wimbledon quarter-final. And no matter what the result, she's already won the nation over.

Most Related Links :
Business News Governmental News Finance News