Entertainment
Just Some Chic Gift Ideas for Women That'll Make You Her Favorite Person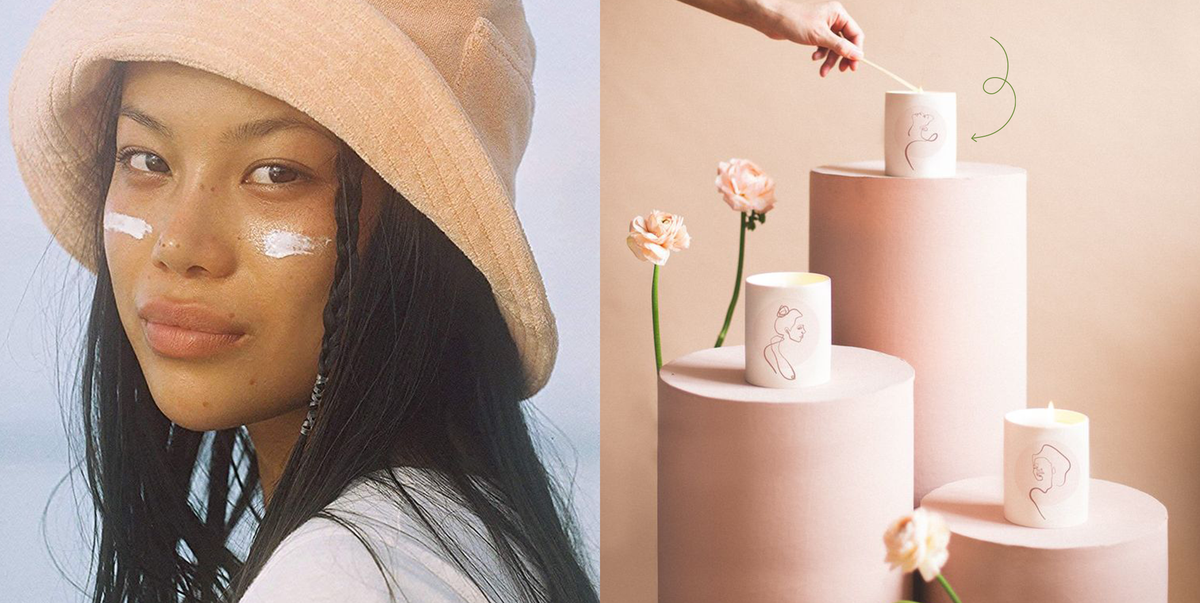 If you thought shopping for one person was tough, try finding multiple gifts for all the women in your life. Yeah, not easy. When you've got your mom (or your stepmom), your sister (or your sister-in-law), and your best friend (or your work wife) to shop for, it can seem nearly impossible to come up with a different present for all the women and teenage girls in your life. But because we love a challenge almost as much as we love online shopping, we took it upon ourselves to curate a gift guide full of items for women of all ages, style preferences, and interests. With a whopping 50 gift ideas, you shouldn't have a problem filling your shopping cart full of different presents for everyone on your shopping list.
So just what can you expect to find? We've got relaxation gifts for that person who could really use a vacation (couldn't we all?), plenty of housewarming and hostess gifts that are just right for the person you don't know too well, and so many cute shoes and accessories that, honestly, we wish someone would buy for us, too. If all of that sounds like what you've been looking for, scroll on and get to shopping already.
1
this summer sweater set
Women's Catalina Sweater Bralette, Heather Sand
The Drop
amazon.com
$29.90
When it's way too hot to wear a sweater but she just can't part with her favorite pair of sweats, this cropped sweater tank and matching cropped pants are the answers.
2
this wavy wine rack
CoTa Global Infinity Wine Rack
Puzzled
amazon.com
$58.25
A wine rack doesn't have to be boring, and if your friend's far from boring, too, they need this squiggly wine-storage stand that doubles as home decor.
3
this night light
Smart Table Lamp
With this smart lamp, they can use their voice or phone to change the color, brightness, and warmth to set the mood to fit the vibe.
4
this dreamy diffuser oil
Rouge Diffuser Oil
sesneslabs
amazon.com
$16.99
So they already own an essential oil diffuser? Then get them this unique bottle of scented oil to use with it. Inspired by the Baccarat Rouge 540 fragrance from Maison Francis Kurkdjian Paris, this oil will make their home smell way more expensive than 17 bucks.
5
this accessories organizer
Stackable Plastic Storage Jewelry Box
mDesign
amazon.com
$16.99
These stackable trays with 20 little compartments for jewelry, accessories, makeup, and more will bring your super-organized friend SO much joy.
6
this purse insert
Purse Organzier
Your mom or friend who carries everything with her at all times 100 percent needs one of these organizational inserts for her bottomless pit of a purse.
7
these go-with-everything sandals
Womens Square Open Toe Braided Heeled Mules
VETASTE
amazon.com
$45.99
A simple, square-toe sandal heel in a neutral shade is a pretty safe bet when shopping for shoes for a gift. This pair comes in the brown shown here, as well as black, white, beige, and more.
8
these martini glasses
Z-Stem Martini Glasses, Set of 4
No happy hour is complete without fun cocktails, and these martini glasses would make the best gift for your work bestie.
9
these pillar candle holders
Decorative Stoneware Pillar or Taper Candle Holder, Set of 2
Main + Mesa
amazon.com
$39.99
If your person likes to decorate with candles more than they like to smell them, these unique candleholders with a crosshatch pattern would look so good on a dining table, entry table, shelves—you name it.
10
this duffel bag
Sports Gym Bag Travel Duffel Weekender Bag
Choose wisely when deciding who gets to be the lucky recipient of this duffel bag. Not only is it cute, but it also has tons of storage, including a vented compartment for shoes and a special waterproof pouch for swimsuits or anything else that you want to keep separate from the rest.
11
these chunky platforms
Corby Platform Sandals for Women
J. Adams
amazon.com
$45.00
Chunky platform sandals… is this 2021 or 2001?! If they've jumped feet first into the Y2K trends, they'll want a pair of these to wear while they do exactly that.
12
this pair of jeans
Women's Miranda High-Rise Straight Fit Ankle Jean
Can she have too many pairs of jeans? NEVER! She'll want to live in this straight-leg, high-rise pair.
13
this facial steamer
Aira Ionic Facial Steamer
Vanity Planet
amazon.com
$59.99
Your loved one deserves a whole spa day, but this at-home facial steamer that helps to soften the skin for clearer pores is the next best thing.
14
this pair of cropped leggings
High Waist Yoga Pants with Pockets
Uoohal
amazon.com
As if this pair of sweat-wicking, non-see-through leggings wasn't great enough, it even has pockets!! Consider these her soon-to-be new favorite pair.
15
this fun polaroid camera
Instax Mini Instant Camera with Film Twin Pack Bundle
Fujifilm
amazon.com
$79.99
She's gotta document your friendship, so be sure to have her take this camera on any future trips.
16
this cool vase
Transparent Flower Vase
Cybilove
amazon.com
$19.99
If you need a good host gift, go with a decorative vase that they can use to decorate their home. Even better, fill the vase with flowers instead of wrapping it up.
17
this practical tech accessory
Phone Stand for Deskhone Holder for Desk
Bright Stone
amazon.com
$8.99
The person who loves desk decor as much as she loves home decor needs this adorable adjustable phone stand. The heavy base and silicone strip will ensure her phone stays put.
18
these lightweight sandals
Double Buckle Adjustable EVA Flat Sandals
FUNKYMONKEY
amazon.com
$17.99
These foam slides are waterproof, washable, and super comfortable—what else could she want in a summer sandal?
19
these fuzzy slippers
Women's Cross Band Soft Plush Slippers
These fuzzy slippers will become her new go-to house shoes. The furry fabric makes them warm enough for the winter, but the sandal style will let her wear them year-round.
20
this cheeky top
Going Out Top in Black
Cosmopolitan
cosmopolitan.com
$25.00
A good ol' graphic T-shirt will get a lot of wear if they have a good sense of humor—and happen to miss wearing actual "going-out tops."
21
this versatile vest
Argyle Plaid Sweater Vest for Women
Auriviz
amazon.com
$18.99
Not your grandma's sweater vest, this cool, modern version is versatile enough to wear on its own or layered over a T-shirt, button-down, or whatever you want.
22
this croc-embossed bag
Small Top-handle Handbags Crossbody Bag
This croc-embossed vegan leather bag will easily go with all their spring and summer looks, and the size is perfect for everyday use. 
23
This Satin Set
Satin Duster with Fringe Detail
Eloquii
eloquii.com
$139.95
This satin duster coat with fringe detailing at the bottom can turn the simplest outfit into a whooole look. Get her the matching pants, too, if you really want to make her day.
24
this sweet set
Collector's Set: Allison Kunath x Brooklyn Candle Studio
Allison Kunath
brooklyncandlestudio.com
$120.00
You know it, I know it, she knows it: One can never have too many candles (especially when they're as cute and aromatic as this set is).
25
this peachy bucket hat
Women's Wave Solid Color Terrycloth Bucket Hat
Lack of Color
amazon.com
If you know someone who loves a good bucket hat, give them this terrycloth version that comes in light yellow, pink, zebra print, and this peach shade (a personal favorite) shown here.
26
this cool cropped top
High Rise Back Top
Shopping for your stylish friend? They can definitely pull off this knit shirt with visible seams.
27
these statement earrings
The Kiki Link
vintageroyalty
etsy.com
$42.00
Who wouldn't want to receive fun earrings as a gift?! This pair is surprisingly lightweight, so your friend can wear them all day and night with no probs.
28
this super comfy bralette
Unlined Microfiber Demi Cup Bra
Savage X Fenty
amazon.com
$41.46
If it's someone you know pretty well, get her an unlined bralette and a matching pair of high-waist undies that are equally cute and comfy.
29
this summery candle
The Awakening Collection
Otherland
otherland.com
$36.00
With notes like lilac, hyacinth, and lycee, this candle evokes the fresh feeling of summertime—the perfect gift for that person who loves this time of year.
30
these eye masks
Star Eye Mask 5-Pack
KNC Beauty
revolve.com
$25.00
These selfie-worthy eye masks have all the ingredients someone would want in their skincare (hyaluronic acid, licorice root, and retinol) and none of the questionable ones they wouldn't. So you can feel good about giving them as a gift.
31
these stylish shades
Women's Unreal Sunglasses
Le Specs
amazon.com
$79.00
Throw them some shades with this pair of trendy Le Specs sunglasses.
32
this luxe polish set
Welcome to Paradise Nail Set
Deborah Lippmann
sephora.com
$36.00
You know she likes to sport a different nail color every week. So get her a pretty polish set that has a range of bright and pastel shades suited for the most fun occasions.
33
these adorable hair ties
Women's Pebble Road Scunchies, Multi, One Size
LOVESHACKFANCY
amazon.com
$45.00
Trend lovers will be obsessed with these statement scrunchies that are both practical and adorable.
34
this graphic phone case
Agate iPhone Case
Sonix
shopsonix.com
$25.00
Their phone is like an appendage, so it better have good skin. This marbled case features gorgeous colorful swirls of pink and teal that'll make it the star of any mirror selfie. 
35
this wall ledge
Totem "Legato" Ledge
shopcandiceluter
etsy.com
$165.00
Paintings are cool, yeah, but this wooden wall ledge made from spalted maple is an even cooler gift idea for the person who loves boho-inspired home decor.
36
this gold coin necklace
The Single Coin Necklace Stack II
OmiWoods
etsy.com
$207.00
Chain necklaces are all the rage right now, so they'll definitely feel on-trend walking around in this pretty gift. With this set, they can wear the heavy link choker chain by itself or pair it with the gold coin necklace for a layered look.
37
this chic rosé
Uncorked By Cosmopolitan Rosé
Cosmopolitan
wine.com
$14.99
A bottle of rosé (with a gorgeous label, I might add) is the perfect present for anyone who appreciates citrus and fruity notes in their glass.  
38
these cute crystal candle holders
Geode Crystal Tea Light Holder
Tal & Bert
uncommongoods.com
$25.00
These candle holders, which are made from concrete and amethyst crystals to look like little geodes, put all the other plain glass jars to shame. 
39
this candle warmer
Candle Wax Cup Warmer Heating Plate
BESTINNKITS
amazon.com
$27.89
And now that your friend has a candle they're obsessed with, they'll want to keep it as long as possible. With a candle warmer like this one, which melts the wax to release the scent without having to burn it, they can do exactly that.
40
this hourglass timer
Time for You Sand Timer
Carissa Potter
walmart.com
$24.95
This self-care hourglass counts down to important reminders: to check in with yourself and take time to breathe. It's the perfect gift for anyone this year, honestly. 
41
this matchstick holder
Speckled White Ceramic Matchstick Holder
This tiny ceramic pot is such a cute gift idea for that person who loves candles, and with strike-anywhere matches, they can use the base of the holder to light 'em up.
42
this chic claw clip
Midi Heirloom Claw in Malachite
Machete
shopmachete.com
$35.00
She'll be able to get her hair out of her face with this gorgeous malachite claw clip. 
43
these dreamy diffuser
Savoy Reed Diffuser
Harlem Candle Co.
harlemcandlecompany.com
$49.50
Wow, this scent is all kinds of heavenly. With notes of black currant, jasmine, sandalwood, and sheer musk, this diffuser will transform her space into a cozy haven.
44
these dessert toppers
Wine-Infused Dessert Sauces
Sonoma Sauces
uncommongoods.com
$17.00
These sauces give dessert wine a whooole new meaning. Your friend who has both a sweet tooth and a love for red vino would love to add a drizzle of these sauces made with Sonoma County wines (sans alcohol), fruits, and spices.
Wine Society
winesociety.com
$49.00
She'll thank you for introducing her to this canned wine. It's a great grab-and-go product for a picnic or the perfect single serving so there's no need to open a full bottle!
46
this cozy Sunday situation
Classic Bathrobe
Snowe
snowehome.com
$100.00
Looks like self-care Sunday is about to get even better. They'll love wrapping themselves in a soft robe for a feeling of absolute serenity.
47
this pillowcase fit for a royal
Slip Queen Pillowcase
Bedhead, be gone! A long-fiber, mulberry silk pillowcase promises a gentle sleeping surface for her skin and hair.
48
this cute neon sign
LED Neon Blue "Dream" Wall Sign
Isaac Jacobs
amazon.com
$29.99
A lil' neon sign they can easily install on any wall will make their room super chic (and Instagrammable).
49
this pocket crystal
Healing Crystals – Rose Quartz
Kitsch
us.asos.com
$28.00
Listen, either you're into crystals or you aren't, but there's no denying this heart-shaped rose quartz is super-cute, whether it's used as decor or for its special properties.
50
this personalized journal
Classic Monogrammable Journal
Mark & Graham
markandgraham.com
$19.99
The journaling type needs this customizable vegan leather notebook. It'll be a special place for them to jot down anything that comes to mind; plus, it fits perfectly in a handbag.
This content is created and maintained by a third party, and imported onto this page to help users provide their email addresses. You may be able to find more information about this and similar content at piano.io
Advertisement – Continue Reading Below
Most Related Links :
Business News
Governmental News
Finance News