Stocks
Asian Stocks Up, Continue Vaccine Optimism Gains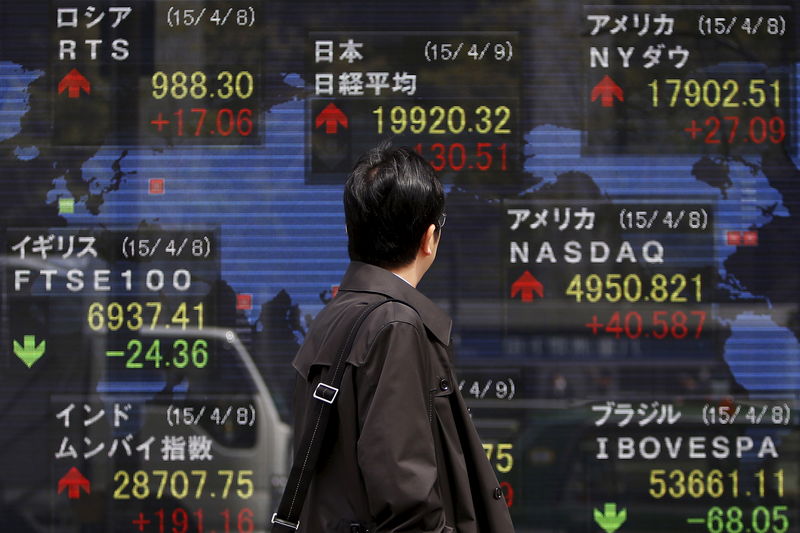 By Gina Lee
Investing.com – Asia Pacific stocks were mostly up on Wednesday morning, after an earlier surge in global stocks earlier in the week over optimism that a COVID-19 vaccine would be successfully developed and launched.
Pfizer Inc (NYSE:) and BioNTech (F:) released positive interim phase III results from their COVID-19 vaccine candidate BNT-162b2 on Monday. The results indicated that the vaccine was 90% effective in preventing infection, sending both global shares and hopes for a global economic recovery on an upward path.
"Investors anticipate a lift in economic activity and a swing back to physical businesses, judging by their support for travel, consumer, financial, materials and energy stocks," CMC Markets chief market strategist Michael McCarthy said in a note.
Stocks in the region saw some gains even as U.S. shares saw losses after vaccines enthusiasm saw investors turned to cyclical stocks associated with economic recovery at the expense of market leaders.
Some investors suggested that this enthusiasm should be curbed, with the development of any vaccine still facing hurdles, such as tests for its efficacy and immunity period as well as delivery logistics, such as how to maintain the extremely cold temperatures that the vaccines need to be shipped in. Other concerns include uncertainty over whether Congress would pass the latest U.S. stimulus measures, the smooth transition of power from incumbent president Donald Trump to president-elect Joe Biden and a surge int eh number of COVID-19 cases in the U.S.
"You still have a tremendous amount of uncertainty out there, and while equities may continue to climb a wall of worry, the stock market is still subject to the rules of gravity," Boyar Value Group managing director Jonathan Boyar told Bloomberg.
China's was up 1.71% by 10:45 PM ET (2:45 AM GMT) and the was up 2.9%. Investors will be monitoring Alibaba's (HK:) Singles' Day online shopping event, taking place throughout the day, to gather clues on the Chinese economic recovery.
Hong Kong's was up by 2.24%.
Japan's rose 5.41% and South Korea's gained 3.82%. In Australia, the rose 1.79%.
In the U.S., Trump continues his refusal to concede the presidential election to Biden, continuing legal action against the results. Uncertainty continues over the lack of a smooth transition of power and mixed signals about short-term U.S. policies.
The U.S. saw record 142,907 daily COVID-19 cases on Monday, but Human Services Secretary Alex Azar hinted that a public vaccination campaign could begin by spring 2021. However, Federal Reserve officials also warned that the uptick in cases would slow economic growth and necessitate more targeted government aid.
The campaign shouldn't stop government stimulus efforts, ANZ Research strategists Liz Kendall and David Croy said in a note. "Policy makers remain vigilant and monetary policy will err towards being very accommodative until a vaccine can be comprehensively rolled out," their note added.
"The reflation trade continues to work in earnest and the rotation to the unloved areas of the market continues," Pepperstone head of research Chris Weston said in a separate note.
Meanwhile, European Central Bank (ECB) President Christine Lagarde, Bank of England Governor Andrew Bailey and Federal Reserve Chairman Jerome Powell due to speak at the online "Central Banks in a Shifting World" ECB forum later in the day. Separately, finance ministers and central bankers from the Group of 20 will hold an extraordinary meeting on Friday to discuss actions helping poor nations that are struggling to repay their debts.

Most Related Links :
Business News Governmental News Finance News

Need Your Help Today. Your $1 can change life.
Registered before? Log in to use your saved details.
If you registered an account, please enter your details below to login. If this is your first time, proceed to the donation form.